Will Hale and the Tadpole Parade – Rock Concerts For Kids
KIDS ARE THE ROCK STARS, When they clap, dance and sing. The kid tested, parent approved and teacher recommended concerts of Will Hale and the Tadpole Parade create a fun atmosphere filled with plenty of audience participation, excitement, and dynamic learning.

Will Hale performs many private shows including daycares, elementary schools, and private events not open to the public. If you would like to schedule a show with Will Hale please call to find out current availability at 651-307-3849. 
---
• Live Concerts for Kids and Families are available, in person.
• Outdoor concerts are an exceptional proven option. With my completely portable battery powered sound system I can set up almost anywhere. 

• I am also fully set up to perform live interactive online concerts.
I am always available all year round for kid and family concerts so please call and we can explore your options. Thanks! Will Hale 651-307-3849

We had a blast with Thomas and Percy this summer in Two Harbors!
August 4 – 13th, 2023
https://duluthtrains.com/thomas/
September 9, 2023 Saturday – Noon – Osceola Harvest Bazaar Craft Fair
Mill Pond Park gazebo 202 1st Ave, Osceola, WI 54020
Over 60 artisans, crafters and vendors! Live music for kids and families with Will Hale and the Tadpole parade Noon at the gazebo.
http://tinyurl.com/2s3vanr5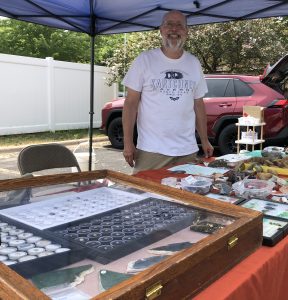 TWO GEM SHOWS THIS FALL!
I will be selling rare and unusual gemstones at two Gem Shows this fall!
You may not know that I am a Graduate Gemologist, I started cutting gemstones at 10 years old. Our family went on many rock collecting vacations and I worked at our family gem store for many years. I'm starting to sell some of my private collection. I only do two Gem Shows a year so this will be your chance to see some amazing gems. There will be a free prize if you ask me for the Tadpole Parade gift when you visit my booth!
GEM AND MINERAL SHOW
Sponsored by Minnesota Mineral Club
September 23-24, 2023 Sat. 10-5, Sun. 10-4; Free for all
Dairy Building Mn State Fairgrounds, 1694 Judson Ave, Falcon Heights, MN 55108
I will be inside the main building this year.
GEM AND MINERAL SHOW
Sponsored by Anoka County Gem & Mineral Club
October 29-30, 2022
Free admission – Sat. 10-5, Sun. 10-4
Crystal Community Center, 4800 Douglas Dr N, Crystal, MN 55429
<<<<<< >>>>>>
"There was so much excitement when Will Hale performed at our school. He has a great presence in connecting with the kids. When I looked around, even the adults were having a good time." – Joe Dockendorf – Principal – Eastview Education Center – Monticello, MN
"Will was great to work with! The portable, battery-powered sound system worked especially well for our event, allowing us to move the concert to a field and easily coordinate social-distance logistics. We definitely plan to work with Will again!" – Priya Tandon – Recreation Supervisor – City of Chanhassen
"Will Hale had an impressive performance by interacting with the kids safely amidst a pandemic. He was able to create many positive responses from the crowd throughout his performance. His wireless setup was very convenient for setup and take-down. I can tell Will Hale is very comfortable and very experienced in what he does."
– Colton Nieman – City of Inver Grove Heights – Parks & Recreation
"We always enjoy having you at our center!" – Little Acorns Learning Center
"You did a great job and the kids LOVED your performance!" – North Oaks Preschool
"Thank you for the great show. My kids had so much fun." – Della Dybvig – Parent
"The kids were engaged and thoroughly enjoyed the performance!"
– Kids Club – Blue Heron Elementary
"You and your music certainly made our event the success that it was! Wow!"
– Oak Hill Montessori School
Check out this treasure filled page with highlights of many interesting projects you may not know about.
Over 100 places Will Hale has performed
Twin Cities Childcare: KinderCare, Tutor Time, New Horizon Academy, 
Kinderberry Hill, Primrose Schools, La Petite Academy, Especially for Children.

Minnesota Children's Museum, St. Paul, MN

Staring Lake Amphitheater, Eden Prairie, MN

Minnesota State Fair 

Day Out with Thomas the Tank Engine

Burnsville Civic Center Park, Burnsville, MN 

Overture Center for the Arts, Kids at the Rotunda, Madison, WI

Mall of America, Bloomington, MN

Rock Concerts for Kids, Stepping Stone Theatre, Saint Paul, MN
Edinborough Park, Edina, MN

Green Bay Packers, Summer Traditions event, Lambeau Field, Green Bay, WI

The Cedar Cultural Center, Minneapolis, MN

Sheldon Theater, Red Wing, MN 

Como Lakeside Pavilion, St. Paul, MN 

Lake Harriet Bandshell, Minneapolis, MN

Gingko Coffeehouse, Saint Paul, MN

Parker Lake Park, Plymouth, MN 

Lions Park, Elk River, MN 

Oak Hill Park, Saint Louis Park, MN 
Springbrook Nature Center, Fridley, MN

Kelley Farm, Elk River, MN

Madison Children's Museum, Madison, WI 

Churchill Elementary, Rochester, MN

Washington Elementary, Ely, MN

Zachary Lane Elementary, Plymouth, MN

Osceola Elementary, Osceola, WI

Edgewood Campus School Elementary, Madison, WI

Kids Company – After school program, Prior Lake, MN

Friendship Connection – After school program, Roseville, MN

Garrison Play Days, Garrison, MN

Washington County Fair, Lake Elmo, MN

Amazing Grace Cafe, Duluth, MN

Grand Rapids Public Library, Grand Rapids, MN

Pleasant Hills Public Library, Hastings, MN

Lynnhurst Park, Minneapolis, MN

Central Park, Woodbury, MN 

Metro Headstart/ECFE 

Girl Scouts/Boy Scouts 

Chanhassen Recreation Center, Chanhassen, MN

McKinley Elementary School, Faribault, MN

Oxboro Library, Bloomington, MN

Bryant Square Park, Minneapolis, MN
Chaska Public Library, Chaska, MN

Galaxie Library, Apple Valley, MN 

New Hope Outdoor Theater, New Hope, MN

Richfield Community Center, Richfield, MN

The Jewish Community Center of the Greater St. Paul Area, St. Paul, MN

Mount Olivet Lutheran Church, Minneapolis, MN

Saint Ambrose of Woodbury, Early Childhood Education Center, Woodbury, MN
And More, including: Many private schools, libraries, community events, festivals, and independent childcare, preschools, elementary schools, scouts, parks and recreation, concert series, churches, private parties and pretty much everywhere there are kids.
Click Here to schedule a Will Hale concert today!